Become a member of The Urban Birder World
The world's first Urban Birder global community
JOIN THOUSANDS OF URBAN BIRDERS AROUND THE GLOBE
Below are just some of the perks of being a TUBW member:
Discounts on TUBW Tours, TUBW Courses and City Day Tours
Discounts on a variety of brands and products
Full access to ICW interviews, including Q&A
Access to Urban Bird Webcams and Quiet Zone
Download free urban birding PDF's
Exclusive Competitions & giveaways
Exclusive webinars with David Lindo
Access to members only area of the TUBW website
and more…
Membership questions or support
Where can I view all my Membership benefits?
All the Membership content will be available within the Members Area.
How do I manage my subscription?
You can easily manage your subscription settings within the "View subscription" section. Here you can see your Subscription Plan, Start Date, Next Payment Date and Auto Renew option. This section is also where you can upgrade your plan, or cancel your subscription. If you ever need to update your personal and credit account details, this is the place. Be sure to have a current credit card account on file at all times, if, you wish to have continuous access to membership content.
How do I change my subscription plan?
You can upgrade, downgrade or cancel your subscription at any time. All you need to do is log in and adjust the plan from the "My Account" panel. Go to "My Account" and select the "View subscription" option.
How do I renew my subscription?
Your subscription renew automatically at the end of its term using the payment details on file for your account. If you purchase a subscription with automatic renewal, you acknowledge and agree that we are authorized to use the payment information on file for the renewal fee.
Five days before your subscription is due to expire, you will receive an auto-generated reminder that your renewal is about to be processed and your credit card charged. As long as you have your credit card updated on your account, you don't have to do anything. Please note that you will only receive a single email reminder so if you intend to cancel do so prior to the renewal date.
The date that your subscription will automatically renew is outlined on your Account page and in the payment confirmation email sent after your initial purchase. You may cancel automatic renewal at any time before that date through your Account page. This will stop future subscription charges from accruing to your account.
You may cancel the Recurring Payment at anytime by clicking (turning off) the "Auto Renew button" through your Account page. Your subscription will be valid till the end of the current billing cycle and your card will no longer be charged.
If you change your mind later and decide you want to re-enable the Recurring Payment, you can navigate back to the same screen and turn on the "Auto Renew button" and you're all set!
You can view the date of your next scheduled payment by visiting your account and clicking on the "View Subscription".
Since we want all members to enjoy as many of their benefits as possible, we recommend that you renew your membership as close to your expiration date as possible to avoid any potential time lost on your membership.
How do I tell when my subscription ends?
If you aren't sure when your paid subscription is due to expire or renew, you can look at your Account page to find out.
Please check "My Account" for information about your tier status and renew date.
How do I update my payment information?
Be sure to have a current Payment Method (e.g., credit card) account on file at all times if you wish to have continuous access to your Membership content. Simply login to manage your account and enter your new payment details.
The Urban Birder World does not store nor have access to your credit account information.
What is your refund policy?
We do not offer full or partial refunds on subscription plans because they provide digital content, so you will need to cancel your subscription before the next payment date.
Can I cancel my subscription at any time?
Absolutely. You can cancel your subscription at any time by clicking "Cancel Button" under your current subscription plan. Your subscription and benefits will be available for you until your subscription expires.
Where can I locate my Member Number?
You can find your Member number on: "Your Account / Dashboard".
If you can't find it, please contact us.
How do I redeem a coupon/promo codes?
The Urban Birder World may offer a number of types of offers and discount coupons each with its own unique terms, such as the number of times it can be used or when it expires. We reserve the right to change or terminate any offered promotions at any time.
Follow the steps to apply a promo code to a purchase:
Select items to purchase, and add them to your shopping cart.
Once you reach the Check Order Summary page, enter the promo code in the "Coupon code" field.
Click "Apply Coupon" button.
Complete your purchase.

Using coupons in Checkout
Retrieve your discount by clicking the link called "Have a coupon? Click here to enter your code". This will open a box where you can enter your coupon code.

How do I access my membership area?
It's really simple, just follow this link: My Account, and use your email address and a password of your choice to login. That will take you to the members area where you can manage your account and see all of the current offers and discounts we have available.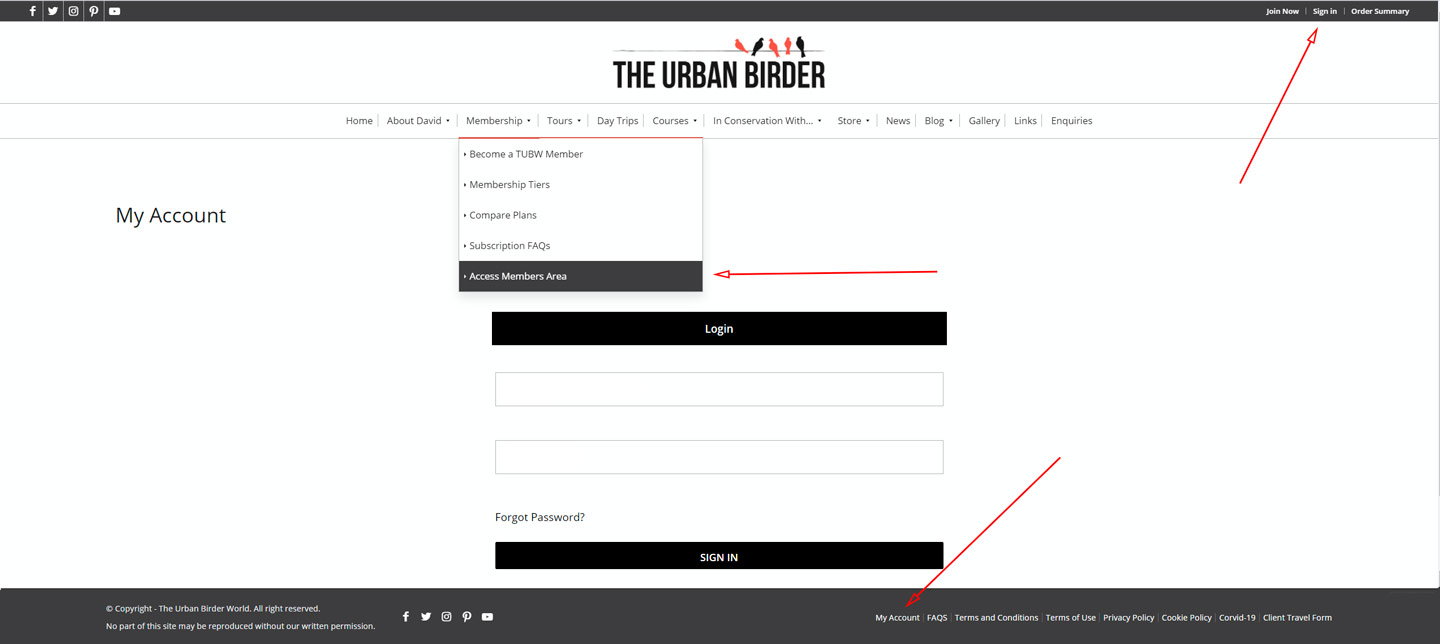 How do I update my account information?
You can update your personal information by visiting the Account Information page in "My Account". A link to "My Account" is located at the top right-hand corner of the site.
Rest assured that your account information is secure, as is any information transmitted when you use your credit card to shop at The Urban Birder World.
Please be aware that if you change your e-mail address, you must inform our Membership Manager of the change in order to continue receiving our Newsletter.
I can't log into my account
Don't worry! There are a few reasons you might have trouble logging into your account and they can all be solved.
If you see a message saying "ERROR: Invalid login credentials.", it is likely to be for the following reasons:
You mistyped your email address
You signed up using a different email address
You mistyped your password
To find out what's causing the issue and to get a password reset, click on the "Forgot Password?" button. You will shortly be sent an email with a link that will allow you to set a new password, and access your account.
If you don't get an email a few minutes, check your Spam folder. If it's not there, it is most likely that you signed up with a different email address. In this case, please contact at webmaster@theurbanbirderworld.com and send them as much information as you can.
I forgot my password – what can I do?
If you have forgotten your password, you can click on the "Forgot Password?" button from the Login Form. You will be sent an email to create a new password. Don't forget to check your spam folder if you don't see the email in your inbox. If this does not work, please contact us at webmaster@theurbanbirderworld.com for assistance.
I can share my login credentials?
Who can I contact for help?
If you have any queries about your membership, please contact at Membership@theurbanbirderworld.com
If you want to find out which TUBW plan is right for you, or have additional questions that need answered, send us a note.
Please contact at: Membership@theurbanbirderworld.com